Pusa Aushadhi
Description
Fruits of this bitter gourd variety are light green, with 7-8 continuous ridges. Average fruit length 16.5 cm and its fruits mature in 48 52 days. Average fruit weight 85 gm and yield 15 19 t/ha.
Salient Feature
It has higher female: male flower ratio of 3:1 compared to that of 1:9 in commercial variety, Pusa Do Mausami. It is recommended through AICRP(VC) for cultivation in Rajasthan, Gujarat, Haryana and Delhi states.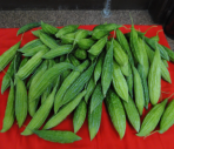 Pusa Rasdar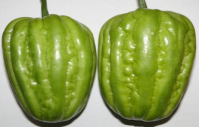 Description
It is first extra early (41-45 days for first fruit harvest) improved variety of bitter gourd suitable for cultivation in protected condition.
Salient Feature
Fruits juicy, smooth, non-prickled with tender skin, fleshy and has desirable marketable attributes like atractive dark green colour. Average fruit weight is 110 g with an average yield of 0.5 t/ 100 sqm in insect proof net-house.
Pusa Purvi
Description
This is first small fruited bitter gourd variety for making stuffed cuisines. Its fruits are of dark green colour, small size(4-5 cm long and 3-4 diameter) and crispy flesh with high dry matter. Average yield is 8.78 t/ha.
Salient Feature
It is good source of minerals (calcium, manganese, zinc and iron) and antioxidant activity.