PSB Inoculants
Description
Enhances P uptake and yield of different crops by 10-35%. Liquid formulation of the phosphate solubilizing bacterial culture consisting ofPseudomonas striata.
Salient Feature
In general, 40% saving of superphosphate by application of rock phosphate and PSB biofertilizer.Enhanced shelf life for two years with viable count of 108 cfu/ml. The other benefits are production of IAA and other growth promoting substances.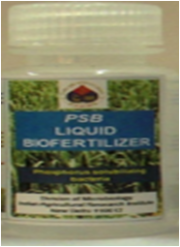 Azotobacter Inoculant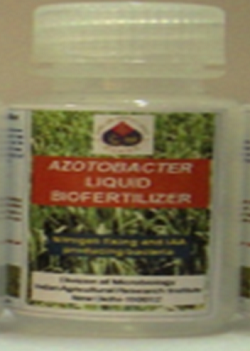 Description
Liquid bioinoculant is cyst based and can be stored at room temperatures.It has a very high microbial load of more than 1012 cells /ml of Formulation has a considerably enhanced shelf life of more than 3 years as compared to 6 months of carrier based formulation. Azotobacter liquid biofertilizer can be used as inoculant for most of field crops viz. cereals, millets, vegetables, fruits, fiber and oil producing commercial crops.
Salient Feature
When applied as seed inoculant it can add 15-20 kg/ha nitrogen to the soil.The yield increases usually range around 10-35%.
Potash Solubilizing
Description
Highly efficient K-solubilizing bacteria containing Bacilus species, which can be used in different types of soils. The culture maintains a high cfu count throughout its storage. Shelf life of a year and can be stored at elevated temperature. Keep soils biologically active and maintains soil health. No loss in plant growth promoting activities in formulation even on long storage.Bacterial protectants added to the formulation improves the shelf life, survival of the culture on seed and help the culture regain active growth under favourable conditions
Salient Feature
Helps plant to utilize K fixed in soil, Inoculation of K-solubilizer helps to augment 10-15 kg K ha-1