Neem Coated Urea
Description
Neem oil coated urea has recorded 7 to 11% higher productivity of rice-wheat cropping system, increased N concentrations and uptake by rice grain, and also a higher recovery of applied N.
Salient Feature
This technology will increase the productivity of rice-wheat cropping system by 7-11% under different agro-climatic regions. Less environmental pollution by decreased ammonia volatilization loss and also reduced NO3 contamination in the ground aquifer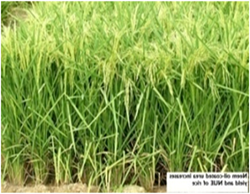 Pusa Hydrogel Technology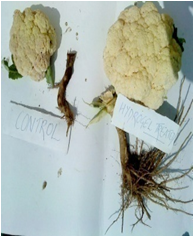 Description
Pusa Hydrogel is a product for increasing agricultural productivity primarily through improvement in use efficiency of water. The technology includes bench scale process for its production along with the concomitant use package under diverse agricultural situation. Employs cellulosic (a natural polymer) backbone. Absorbs a minimum of 350 times of its dry weight in water and gradually releases it. Low rate of application (1-1.5 kg / acre). Exhibits absorbency at high temperatures (40-500C), suitable for semi-arid and arid regions. Effective in soil for a minimum period of one crop season. Improves physical properties of soils and the soil less media. Improves seed germination and the rate of seedling emergence. Reduces leaching of agro-inputs such as herbicides and fertilizers. Reduces irrigation and fertigation requirements of crops. Reduces nursery establishment period. Helps plants withstand extended moisture stress
Salient Feature
30-50% reduction in frequency of irrigation thus reducing drudgery in terms of labour involved in frequent irrigations, particularly, in vegetables. Reduction in the dosage of fertilizers to the turn of 22-30%. Improvement in soil quality
Eco-Friendly Waste Water Treatment
Description
Innovative Eco-friendly waste water treatment technology .This technology utilizes local wetland plants, local media and natural microorganisms for ttreating sewage waste water.This technology is associated with with just 1% energy requirement; zero-chemical application; zero-sludge generation; 50-65% reduced treatment cost and thus totally self sustainable.
Salient Feature
This technology utilizes locally emerged Typha latifolia and natural microorganisms for treatment of sewage water.The technology is highly sustainable and treats 2.2 Million Litres per Day (MLD) of sewage water. This technology could create local surface water source of about 660 Million liters saving Rs 18.5 lakh in agriculture irrigation water
Pusa STFR Meter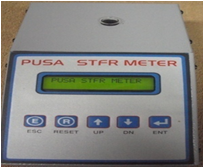 Description
Pusa Digital Soil Test Fertilizer Recommendation Meter determines available nutrients in the soil and dosage of fertilizers for balanced crop nutrition. Quantitative estimation of twelve (12) parameters viz., pH, EC, Organic Carbon, Phosphorus, Potassium, Zinc, Boron, Sulphur,Iron, Manganese, Lime requirement, and Gypsum requirement . Fertilizer recommendation for more than 100 different crops
Salient Feature
Memory for data storage. Data generation via thermal printer and computer . User-friendly digital device operated both with battery as well as electricity . Cost-effective and portable .The kit provides a table-top shaker for uniform shaking of soil samples for analysis. Prevents soil health deterioration. Saves money by optimizing the fertilizer use.