Entomopathogenic Nematode- based Galleria cadavers for White Grub Management
Description
Entomopathogenic Nematodes (EPN) are parasitic roundworms that infect and quickly kill insect pests that live underground. Galleria mellonella cadavers infected with EPN can be applied in sugarcane fields for managing the white grubs. The nematodes emerge from the cadavers in soil within 3-4 days to infect the grubs coming in their contact
Salient Feature
Rearing galleria is simple and cheap, Infecting galleria with EPN takes 24 hours, cadavers applied in the field at 2-3 inches depth, Upto 2,50,000 EPN emerge from one cadaver, Have ability to search for insect pests, Kill the grubs within 48-96 hours and turn them red, Have potential to reproduce after application, Safe to non-target organisms and environment.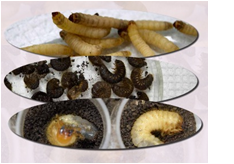 A.Sowa (dill) seeds (insecticide synergist's dillapiole and dihydrodillapiole)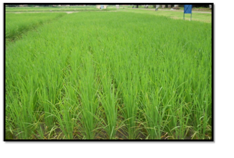 Description
Most of the insecticide synergists are synthetic and may suffer from undesired effects.
Know-how has been developed for the preparation of plant origin insecticide synergistsdillapiole from Anethumsowa seeds and its catalytic conversion to equally effective dihydrodillapiole.
The compounds (dillapiole and dihydrodillapiole) are effective as insecticide synergists, and as mixed function oxidase (MFO) inhibitors.
Salient Feature
The products enhance the insecticidal effectiveness of pyrethroid, carbamate and other group of insecticides.Products are unique as they reduce the cost of the pesticidalinput and check emergence of insecticide resistance in insect pests.The product(s) are safe and cost effective
Decontamination of pesticide residues from vegetables
Description
It was attempted to reduce pesticide (malathion, cyfluthrin and indoxacarb) residues from the vegetable by using safe chemicals. The invention differs from earlier report in either the use of a microorganism or using a toxic chemical whose adoption can adversely affect the quality of vegetable or edible commodity itself.Since addition of hazardous substances makes the vegetable non-consumable, the process deals with removing residues of pesticides present in vegetables by using a combination of non-toxic chemicals.Degrading synthetic pesticides with microorganisms are reported. But the use of microbes is not acceptable to people at large. A need is felt for discovering novel and safe products/ methods of detoxification of pesticides as it amounts to value addition of vegetable
Salient Feature
The consumer will benefit by getting a decontaminated vegetable. There is a need to remove/ reduce and transfer these toxicants from contaminated vegetables, so that the health of consumer is not adversely affected.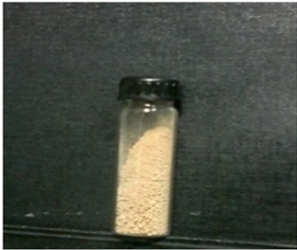 Pusa Nemagel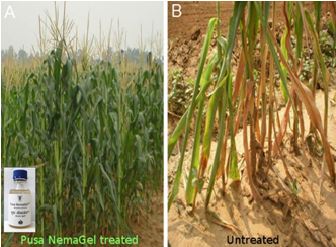 Description
Pusa NemaGel is a bio-pesticidal formulation based on heat tolerant indigenous insect-parasitic nematode species Steinernema thermophilum. The formulation can be used to control termites and white grub in agricultural crops in arid regions.
Salient Feature
In this formulation, the nematode have been entrapped and immobilized for maintaining their viability and enhancing the shelf life. It can be used as soil application or foliar application depending upon the target pests.This formulation is ideal for use in the management of harmful insect pests in most of the tropical and sub-tropical parts of the world. There are no environmental and bio-safety issues involved as the formulation and the bioagent are known to have no adverse effects.