Pusa Sabzipetha
Description
This variety is identified for Kharif cultivation in Zone VIII (Karnataka, Tamil Nadu and Kerala). Its vines are medium long (average length 7.0m) and fruits are cylindrical. It requires 100-110 days for first fruit maturity.
Salient Feature
The average flesh thickness of fruits is 6.40 cm. Average yield is 36.5 t/ha and fruit weight is 3.5 kg. Suitable for culinary purpose.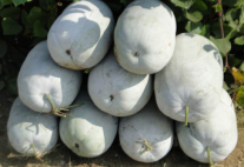 Pusa Ujwal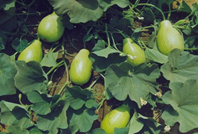 Description
It is a selection from indigenous material. Its vine is medium (3-4 m) long. The fruits are oblong ellipsoid with greenish white rind and white flesh. The average fruit weight is 7 kg.
Salient Feature
They have long storability (more than 6 months at room temperature). The average yield is 45.0 t/ha.