Pusa Abhinav (Acid Lime)
Description
It is a promising clonal selection having medium vigorous trees, dense foliage, and attractive bright yellow round shaped fruits. Round the year fruiting with peak harvesting during summer months (March-April and August-September). Moderately tolerant to citrus canker.
Salient Feature
Fruit with higher juice content (56.92%) and acidity (7.72%). Round the year fruiting with two season harvesting will make this selection highly suitable for commercial cultivation as well as for kitchen gardens.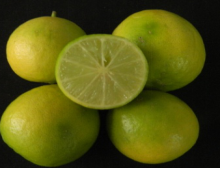 Pusa Round (Sweet orange)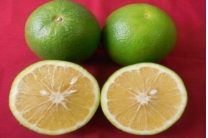 Description
Selection having dense foliage and attractive round fruit. Bigger sized fruits (268.68 g) with high juice content (119.00 ml/fruit).
Salient Feature
The plants are moderately vigorous and about 400 plants of this selection may be accommodated in a hectare (5 m x 5 m).Yields 3.5-fold higher than Jaffa and 2.4-fold higher than Valencia. Higher productivity per unit area. High TSS content (10.14 0B) and fruits are free from granulation.