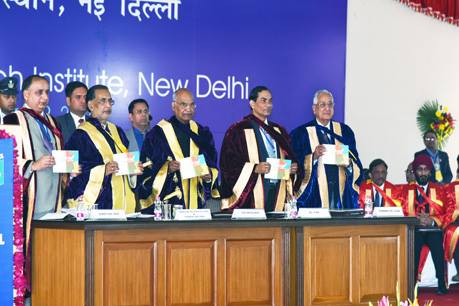 March 1, 2018 8:23 am
Book Launch: Honorable President of India launch the ZTM & BPD Unit's Book
Hon'ble President of India, Shri Ram Nath Kovind ji released a book named "Arise….Get Set…Go…" authored by Dr. Neeru Bhooshan and Dr. Akriti Sharma of ZTM&BPD Unit during 56th convocation of IARI, New Delhi. The book depicts landscape of agribusiness incubation and its evolution in Indian agricultural research system, creates awareness about the support structure and processes developed, and narrates inspiring journeys of 17 agro-startups incubated and mentored right at the dawning of the ideas, through their learning process, progress and impact on farmers and other stakeholders in the value chain, and mainstreaming in the Indian agribusiness realm.
In this book, the readers will come to know about the commendable journey of these start-ups and will serve as motivation to many youngsters who are thinking of venturing into agriculture. The book also enlists the outreach impact created by these start-ups in the society. These stories depict the areas in which innovations happened and how it changed the scenario.
A copy of the book can be availed from ZTM& BPD Unit, ICAR-IARI, New Delhi.